新年预订订单 3/1 已经截单
3/1 过后的订单都不保证可以新年前收到货(需考虑物流延迟因素)还想下单的依然接单 但不接急单~ 可以接受物流延迟才下单
We have cut off Chinese New Year preorders on 3rd January
Orders after 3rd January cannot be guaranteed that will be received before Chinese New Year. You may still place an order if you are flexible with the receive date.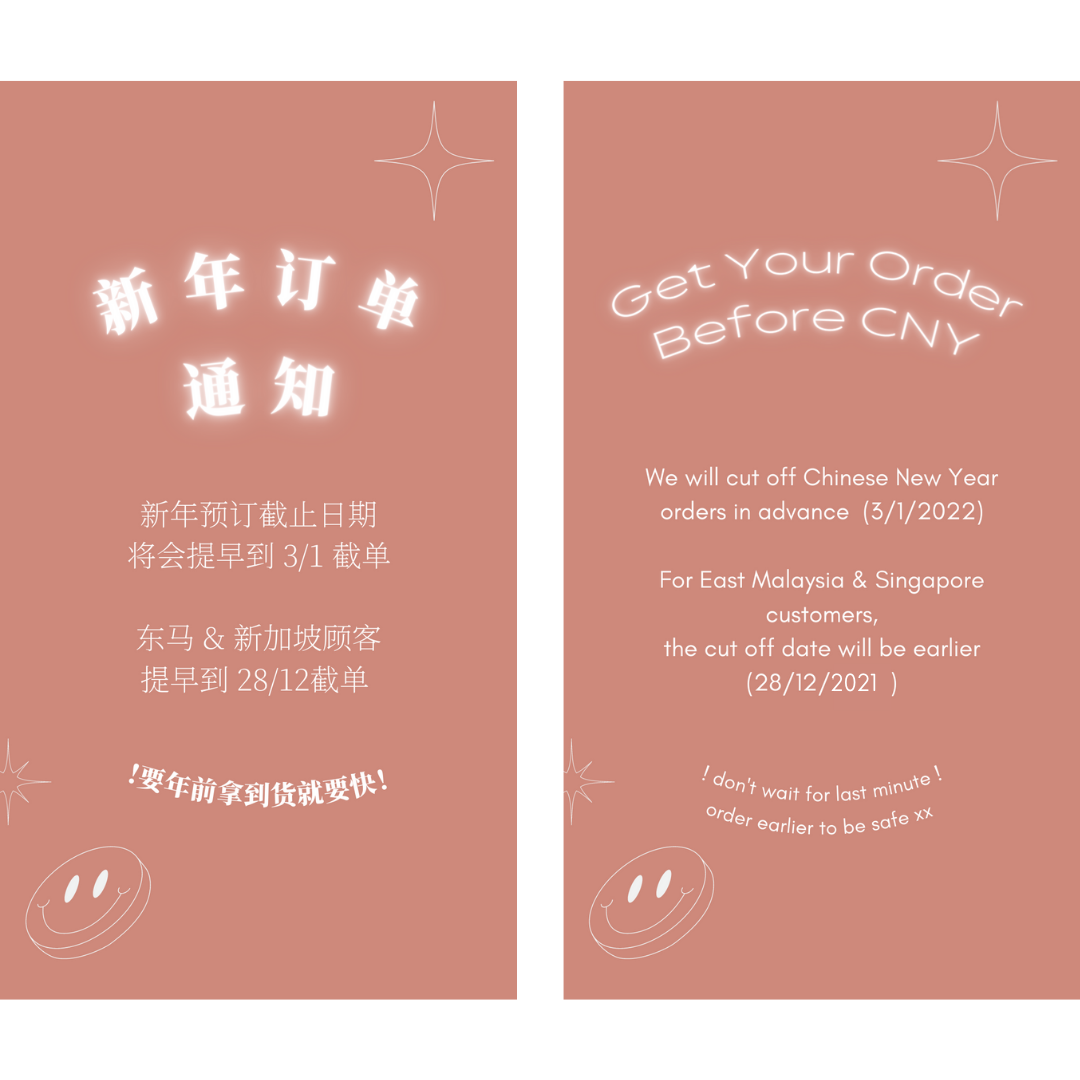 Kindly take note that items in store are pre-order unless able to choose "In Stock" option.

You may check your order's estimated arrival date according to below.
We process and ship out orders in 1-3 days after stock arrival.

Kindly take note that there might be delays if there is a flight cancellation, strict custom check, or logistic delay. We will update the shipment schedule if these unfortunate situations happen.
Order Placed (Preorders)
Estimated ship out date

Orders placed between
1 Jan - 3 Jan



Estimated ship out date
13 January 2022 - 18 January 2022
Slightly Delayed * New ETA 18-20 January



Orders after 3 January is not under guarantee period to receive before Chinese New Year


Orders placed between
4 Jan - 5 Jan



Estimated ship out date
15 January 2022 - 20 January 2022
*delayed due to enforced customs clearance. New ETA 22-25 January



Orders placed between
6 Jan - 10 Jan



Estimated ship out date
20 January 2022 - 25 January 2022



Orders placed between
11 Jan - 15 Jan



Estimated stock arrival date
25 January 2022 - After Chinese New Year Holidays
*If stocks arrive after 29 January, it will be processed after CNY Holidays



Orders placed between
16 Jan - 20 Jan



Estimated stock arrival date
13 February 2022 - 17 February 2022
(kindly expect some delays due to CNY holidays, we will further update if there is any delay)



Orders placed between
21 Jan -28 Jan



Estimated stock arrival date
15 February 2022 - 20 February 2022
(kindly expect some delays due to CNY holidays, we will further update if there is any delay)